Home Inspection Woodbury | Home Inspector 952 583 9690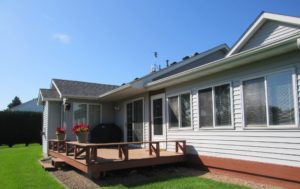 The American Society of Home Inspectors(ASHI) defines a home inspection as "an objective visual examination of the physical structure and systems of a house, from the roof to the foundation"
Exterior home inspections help you spot potential problems before they can escalate into something more serious and costly. Doing this yearly will help minimize unpleasant surprises and unexpected difficulties down the road.
Our inspector will do a thorough inspection of the exterior of the property and look at the following areas:
ROOF
Free of debris, vegetation ad mold
Surface rippled, blistered or buckled
Shingles missing, worn or damaged
Slate or tiles broken or out of position
CHIMNEYS, VENTS & FLASHING
Vents clear of obstructions
Metal flashings show no visible damage
Chimney bricks cracked
Mortar joints worn
SOFFIT & FASCIA
Free of rot, debris and mold
Free of Peeling paint and water stains
Wood sagging, splintered or rotten
Trim boards pushed apart at corners
OVERHEAD HAZARDS
Free f Heavy overhanging tree limbs
Clear of power and telephone lines
EXTERIOR WALLS & SIDING
Free of rippling, buckling and distortion
No cracks, holes, gaps or water stains
Paint blistered, cracked or flaking
Wood sagging or rotten
GUTTERS & DOWNSPOUTS
Free of debris, vegetation and mold
Free of corrosion, cracks and leaks
Water exit sufficiently far from house
Gutter full of debris
Gutter bent or pulling away from house
Water pooling or slow-moving
WINDOWS & DOORS
Free of leaks and condensation
Caulking and weatherstripping intact and even
Wood frame, sill or trim rotten
Weep holes clogged
FOUNDATION & DRIVEWAY
Free of standing water and wetness
Free of Shrinkage, expansion and settlement cracks
Outer walls bulging or leaning slightly
Concrete crumbling or chipping
Our inspector will create a detailed report of their findings long with pictures and will be available to the customer in 24 hours of the inspection. Give us a call today to schedule your exterior inspection!
Home Inspection Woodbury | Home Inspector 952 583 9690